Recyl is pleased to introduce its new ink filters.
Those filters are now closed by a steel lid, which provides far better resistance than plastic.
Thanks to their filtering baskets in different mesh sizes (from 141µ to 600µ), the new Recyl filters improve the inking quality and decreases Anilox wear by retaining all the particles and metallic waste.
The ink filters come with two openings: an inlet and an outlet for ink. The magnet and the filtering cartridge used to hold impurities are placed between the two openings.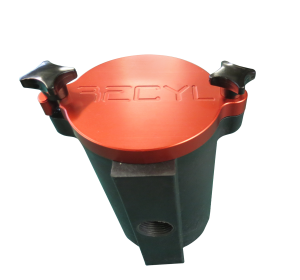 The ink filters are assembled on the inking circuit at the outlet of the pump: the filter inlet is located below the body and the exit is on the front.
The neodymium magnet is bound to attract any metallic particles such as doctor blades chipping away due to high friction. Additionally, the physical ink filter cartridge would capture any dry ink particles larger than the chosen mesh size. With both these elements combined, the ink is certain to be of a clear and consistent quality – resulting in an improved quality.
The design of Recyl ink filters is kept simple for easy maintenance while the robust material ensures longevity.
For flexo printers looking to protect their investments on Anilox rollers and rotogravure printers looking to protect their chrome rollers, these ink filters are a must-have.
The technical specifications of these ink filters can be found on this link: Technical Data Sheet INK FILTER – EN 2018.