Cliché Cleaner | Plate Cleaning Machine
Cliché Cleaner | Fast automated Plate Washing, Rinsing & Drying
Cliché Cleaner Range: new cleaning concept with a more reliable, simpler and more efficient process thanks to its fast 2-lateral brush.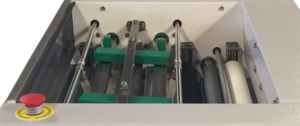 The plates can be manually or automatically transported into the machine with the help of a feeder belt (optional).
After cleaning, rinsing and drying, the plates are immediately ready for storage or reuse for another print run.
The Cliché Cleaner range comes into 7 models for maximum plate widths of 45, 65, 82, 92, 115, 140 and 180 cm, so it is adapted to the various needs of printers in the narrow, mid and wide-web markets.
The Cliché Cleaner machine allows to clean plates soiled by any type of ink can be used with our Recyl Cleaning products:
Quick'Wash UV, Quick'Wash Flex, PK Water Plus / Narrow Web, Labels
Quick'Wash Cliché (new), Quick'Wash Solvant, Quick'Wash Solvant PU / Mid Web & Flexible Packaging
Quick'Wash Premium & Quick'Wash Booster / Wide Web & Corrugated.
Request for quotation