New ultrasonic machine MW-1 for Anilox
Ultrasound cleaning machine

NextWave MW-1


for Mid Web & Wide Web
Following the success of its NextWave NW anilox cleaning machine, designed for Narrow Web, with ultrasonic technology, Recyl has expanded its range to meet the needs of Mid and Wide Web printers.
It was at the All4Pack exhibition in Paris last November that Recyl has unveiled its new prototype: the NextWave MW-1 (Mid Web, 1 cylinder cleaned), designed for the widest widths (1800 mm).
Like the small model, the NextWave MW-1 machine incorporates inside the NexTgen ultrasonic generators from the French firm SinapTec.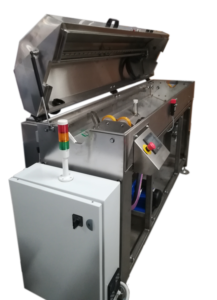 This technology, used in conjunction with the Recyl W200 cleaning product (market reference), allows fast and thorough anilox cleaning by optimally combining the chemical and mechanical actions of ultrasonic waves
The MW-1 machine has the particularity of ensuring automatic cleaning, rinsing and drying, WITHOUT handling of the cylinder between the different phases
While conventional solutions require the operator to move the cylinder from an ultrasonic cleaning bath to a rinsing bath (and generally do not offer drying, or manual drying), the NextWave MW1 completely frees the operator during the entire cleaning/rinsing/drying process and allows him to concentrate on more productive tasks.
For any further information or receive a technical brochure, feel free to contact us.